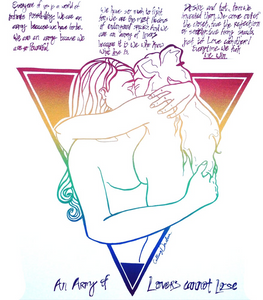 PoliticalGridlock
An Army of Lovers Cannot Lose Poster
Regular price
$50.00
$0.00
Unit price
per
An Army of Lovers Cannot Lose
Artist: callingdrdrea
" Everyone of us is a world of infinite possibility. We are an army because we have to be. We are an army because we are so powerful. We have so much to fight for ; we are the most precious of endangered species. And we are an army of lovers because it is we who know what love is . Desire and lust, too. We invented them. We come out of the closet , face the rejection of society, face firing squads, just to love eachotother!
Every time we fuck, we win."
Part of the Art for Social Change series. Hand printed with metallic inks. Shipping cost is included.
1 Screen
1 Split Fountain
Metallic Ink
Rainbow Color Scheme
---